---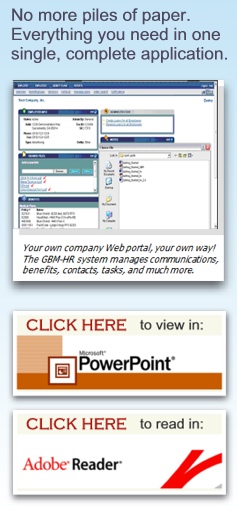 Centralized Communication Portal

As our client, we are pleased to provide your company with a complete, easy-to-use, Web-based system that simplifies all of your benefits, reporting, and communications activities. With GBM-HR, you'll have a personalized Web portal where benefits information and costs, educational materials, company newsletters, and other communications can be easily accessed by
your employees.
Streamlined Benefits Administration

GBM-HR decreases administration costs by reducing paperwork and efficiently managing your daily tasks. Intelligent, self-populating forms eliminate the need for data-entry redundancies. Employee self service automates open enrollment activities. Detailed reporting tools simplify cost comparisons and benefits analyses.
GBM-HR Provides:
24/7 Online Access to Carrier,
Broker, and Employee Information
Easy-to-use, Eligibility, Enrollment, and Benefits Management
Payroll/HRIS Integration
Comprehensive Reporting
Simplified Employee Self Service Enrollment Tools
Intelligent, Self-Populating Forms
Customized Communications Tools
Task and Contact Management
Notifications and Searchable Notes
Links to Important Industry Information